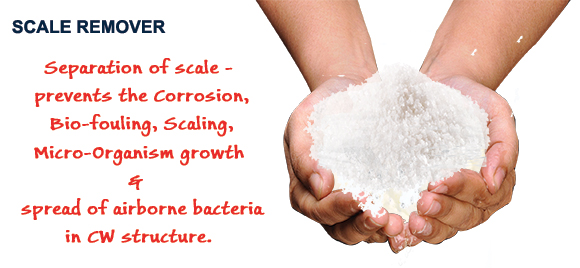 Continuous scale / hardness removal and onsite disinfectants generation - mitigate the scaling, corrosion, bio-fouling & bacterial infection in Cooling Tower Water Distribution System. In order to overcome the limitations of conventional cooling water treatment (addition of chemicals or by water softening), Tiaano ventrued with M/s. HVS, Singapore and developed "Tiaano-HVS ElSr" – removal or separation of scale/hardness by electrlytic opeation. Tiaano-HVS Elsr produces Oxidents in the water; Oxidants prevents the Corrosion, Bio-fouling, Scaling, Micro-Organism growth & spread of airborne bacteria.
Cooling Tower Operation:

How Tiaano-HVS ElSr works:
Accelerated scale precipitation within a reactor.
Production of active alkaline ionic species - enabling automatic active pH manipulation to control corrosion.
Continuous online generation of active oxidants - as a replacement to biocides and oxidising agents.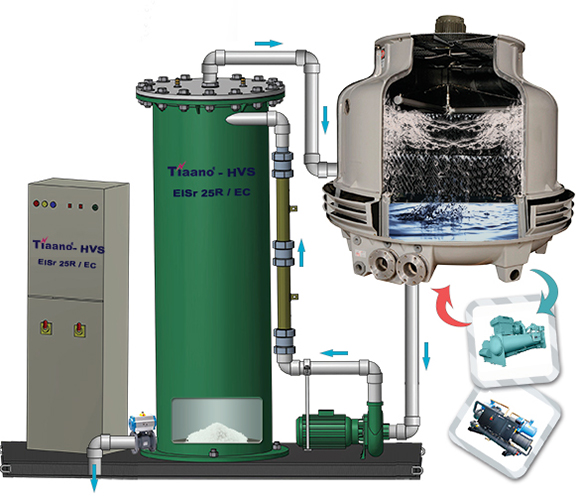 Technical Innovation:
Proprietary Ultra-Short Pulsed DC Technology.
Highly Efficient Oxidation - Reduction Process.
Cold Electrochemical Activation System.
Functionalised Electrodes Design.
Self-Cleaning Electrodes.
Potential Benefits for Cooling Tower operation:
100% savings on chemicals.
70 ~ 100% savings on blowdown water.
10 ~ 50% savings on labour cost.
20 ~ 40% of water savings.
05 ~ 15% of energy savings of cooling fan.
02 ~ 04% energy savings of chiller.
Advantages over existing non-chemical treatment system:
Green technology.
Zero Bleed Loss.
Low energy Consumption.
Modular design.
Zero Toxic Sewer Load.
No toxic chemical storage hazard.
Small footprint.
Easy operation.
Low maintenance.